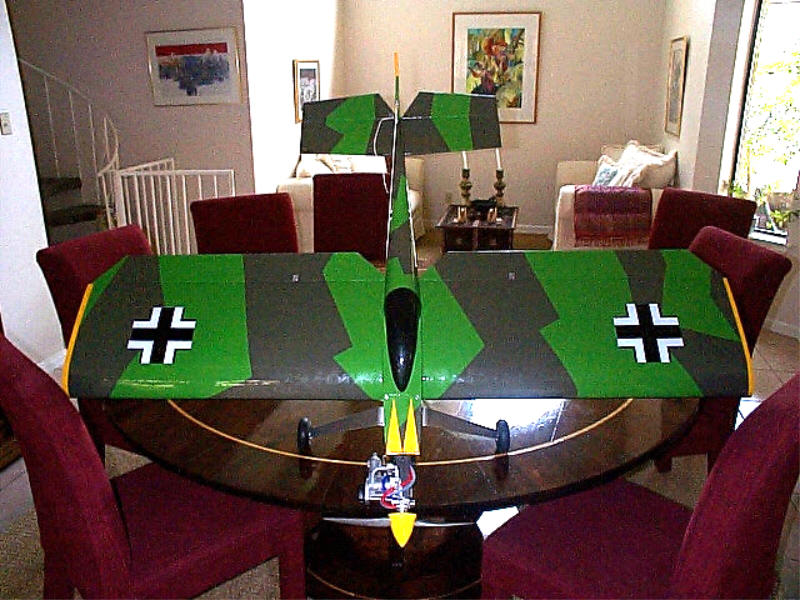 Great Planes Dazzler   

Built 3 yrs ago, my second kit built airplane

Powered by a ys 53 originally, now powered by an os 46 with ultra thrust muffler. Great knock around plane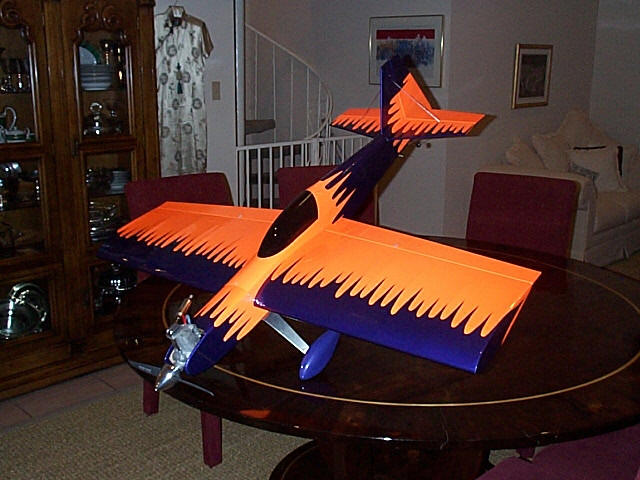 Sig somethin extra    My third kit built airplane, was very easy to put together since the parts were lazer cut. I decided to get sorta creative on the covering. Powered by a very dependable os 70 4 stroke. Still flies regularly under new ownership(flying buddy)

Should be around 300 flights by now, and the neon orange has faded considerably. Still, a great airplane to toss around the sky.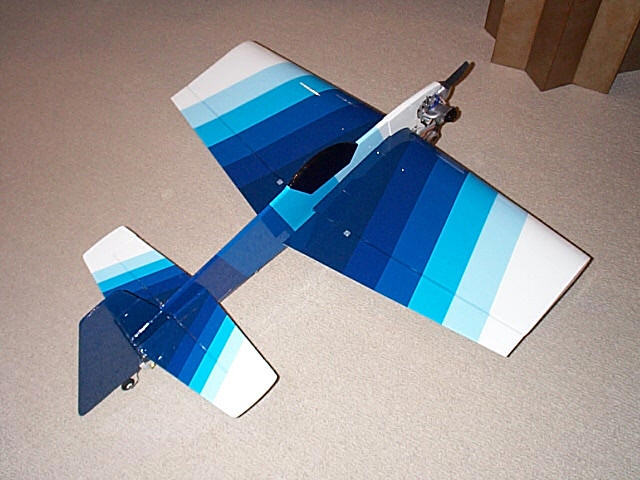 Morris Hobbies Topcap   This was my fourth kit built plane. I managed to put this one together in 3 weeks. This is my favorite fly anwhere plane(only needs about 10 feet for takeoff and landing) Its still in flying condition but is semi-retired. Powered by a ys 53 taken off the dazzler. Great hovering machine.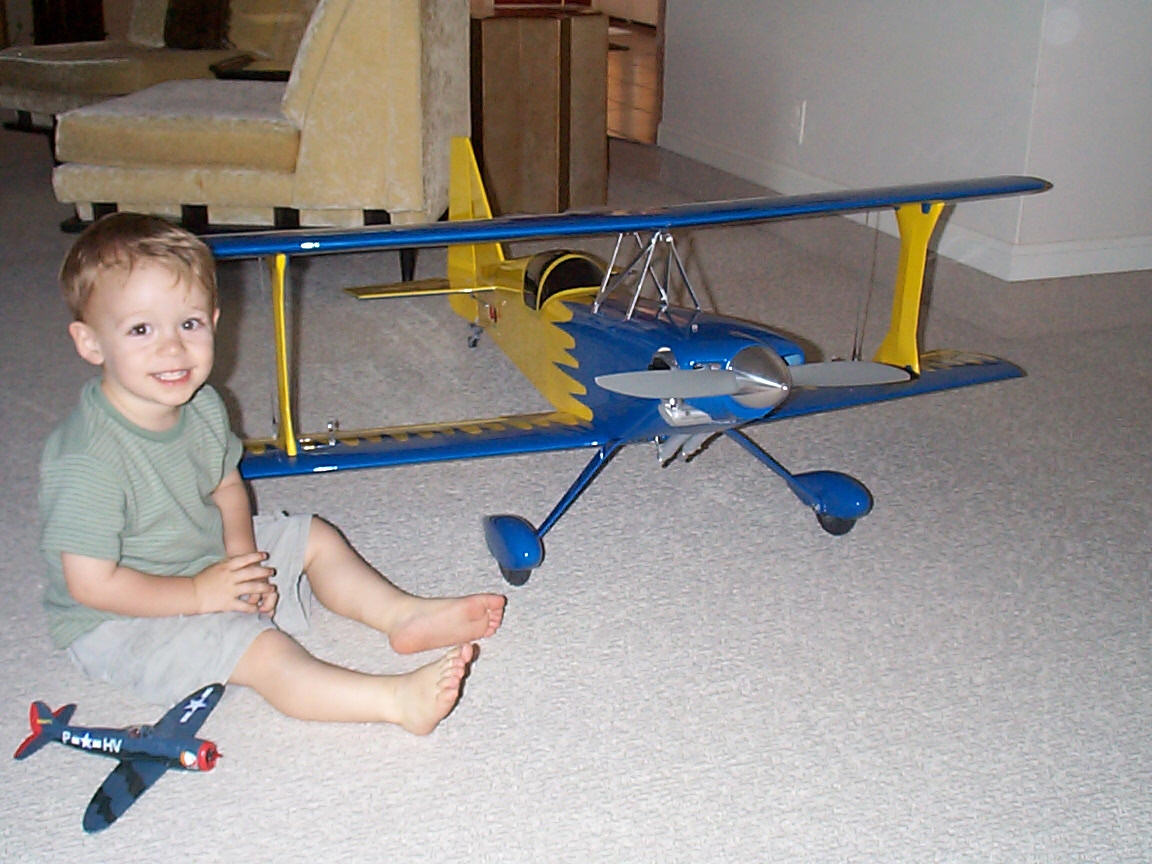 My son Maverick (and his thunderbolt) with my Carl Goldberg Ultimate 10-300. This was the fifth plane that I built. Powered by a ys 120, this is what I learned to do aerobatics on.  Flew great for 1 year until It had an argument with a barb wire fence( it lost). It lost the front half of the fuse and both wings. After sitting around the shop, looking forlorn for a month, I decided to rebuild it. I constructed 2 new wings from a CG wing kit, rebuilt the front of the fuse, got new fiberglass parts and re-engined it with a RCS 140 22cc gasser. It now has the same power as the YS 120, uses 1/4 of the fuel for the same flight time, and doesnt leave any mess behind. It also weighs exactly the same as it did before the crash.  I also added to the new wings to make it the required 60" for IMAA big bird meets. Color scheme is the same, except the scallops were changed to blue flames.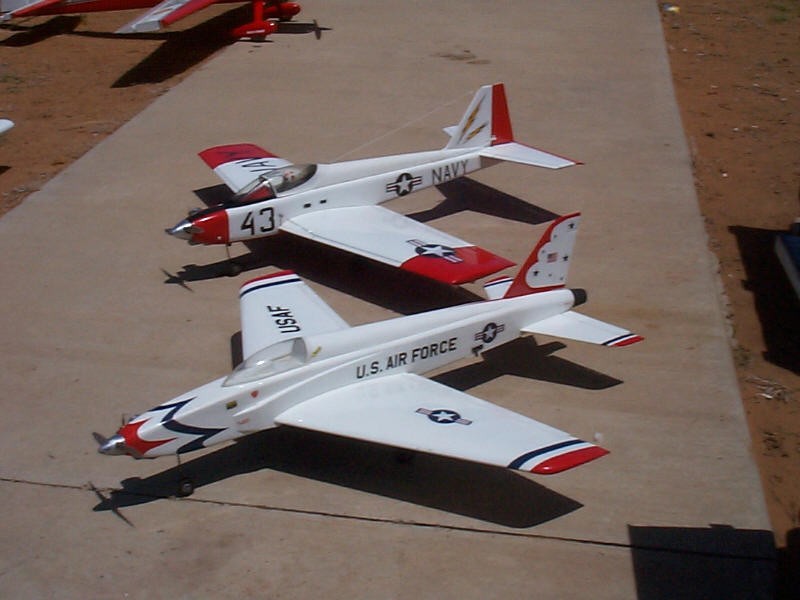 Sig King Kobra. (the one in back)  Bought this plane from a friend. I flew it with an os 60, then changed to a JETT 90. This bird really hauls butt. The JETT will suck down 16 oz of ys 20/20 in 4 min. It turns a 12/7 at 15500 rpm. Very stable flier at high speeds.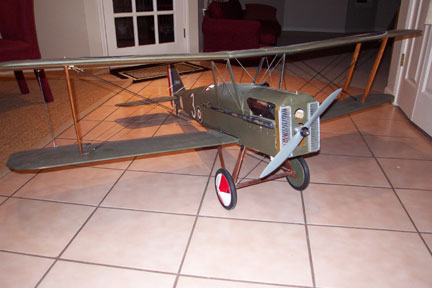 Heres one I've had for awhile but never finished. Its a British SE5a from Duncan Hutson plans.  It has a wingspan of 65" and is powered by a OS 120 four stroke.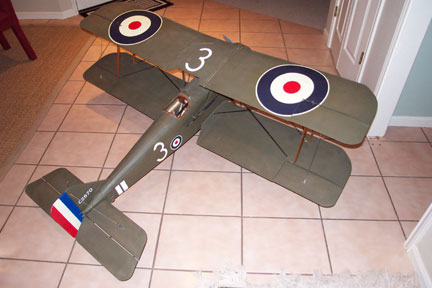 It is now completed and ready for its first fights.