Yellow Aircraft Spitfire Mk XIV

Camoflage and markings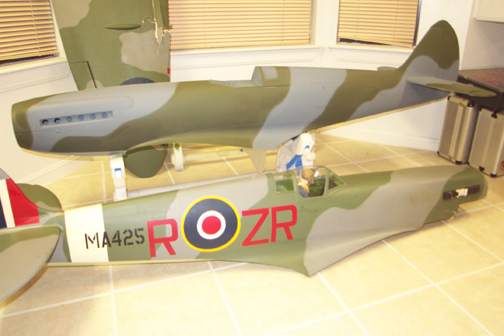 Here is the fuselage after painting in the basic camo "A" pattern.

Base color is perfect paint RAF ocean gray thinned 10% with perfect thinner, sprayed on with the HVLP gun. The camo is done with RAF dk. green and is airbrushed on freehand following pencil lines that i drew on as per the 3-view.  In the foreground is the fuselage of a slightly damaged PICA Mk IX spitfire that was given to me by a very nice gentleman named Kirby Fortenberry. Kirby  had a rough time of it on his first flight and had a rogue tree pop up in front of him.

He decided not to fix it and was kind enough to donate it to my growing air force. I plan on fixing it as soon as I finish the yellow spitfire.

The Pica has beam mounts for the engine so I plan to use a BME 50 which will drop right in. The damaged wing for the pica is leaning on the wall. Mostly superficial damage on the wing and fuselage bottom shouldnt take too long to fix.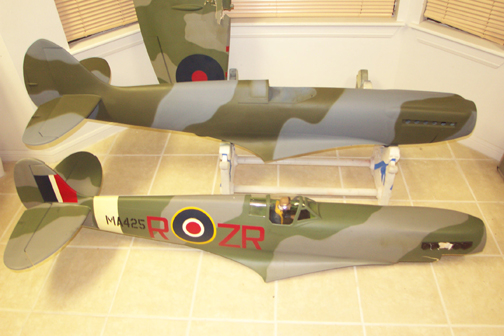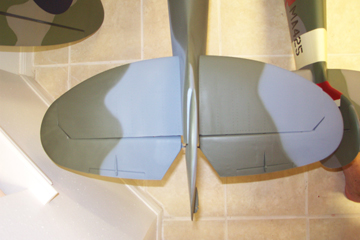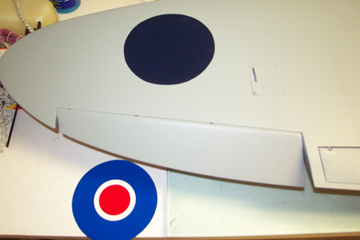 Heres a close up of the camo pattern on the horizontal stabilizer. You can also see the trim tabs on the elevators and rudder

The decals that came with the kit are the wrong color so I decided to paint mine on.

I cut out the decal from the sheet, traced the outline onto a piece of frisket paper and made a template the same size as the decal.

roundrel blue was used first. Next comes another stencil for the white, and one for the red. All other markings will be done the same way.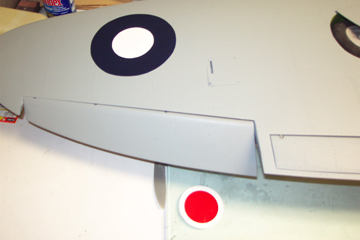 Heres the same marking with the white circle painted on, now comes the red.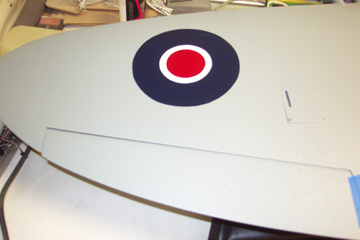 Here is the completed roundrel in RAF roundrel blue, flat white and RAF roundrel red.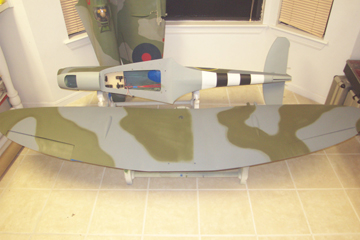 Here is the wing and fuselage with upper wing surface camo done and invasion stripes on the fuselage bottom.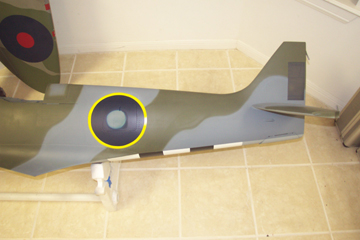 This shot shows the fuselage roundrel in the process of being applied. You can also see the blue of the fin flash.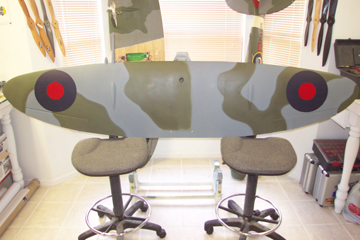 Heres the wing with the camoflage finished and markings applied.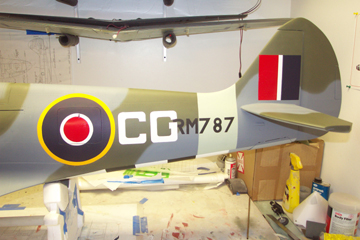 Tail section with all markings applied. The hatch is located in the center of the roundrel.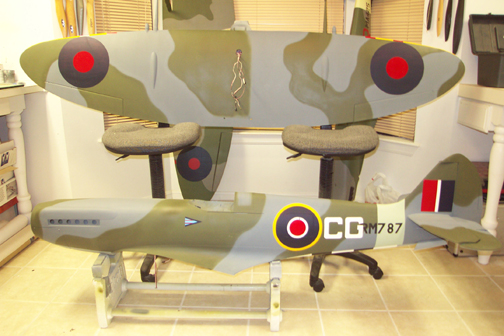 Well, here it is all ready for clear coat. Now its time to hinge the control surfaces and hook up all the linkages and servos. Check back soon for pics of the completed plane.

Trim scheme is from Osprey's Late marke spitfire aces of  WWII. Aircraft was flown by the highest ranking ace from New Zealand, named Colin Gray, hence the "CG" on the fuselage sides. Wing commanders had the privelage of having their initials on the aircraft sides.